E M O R Y  L I B R A R I E S  O N L I N E  E X H I B I T
From The Archives:

Black Student Activism
This online resource exposes archival evidence of Black student activism as it exists in the University Archives at Emory University. There are pieces of evidence of student life and activism in the form of correspondence, newspaper articles, memos, and reports, though the overall priority has long been to document official records of the university. Records of student groups exist in the University Archives but are not as robust as the records and archival materials of programs, departments, offices, administrators, presidents, trustees, etc. In fact, there are few records documenting the Black Student Alliance itself; and were it not for the folders here and there and copies of correspondence in some collections, the organization and its activities would be hard to trace through the archives alone. There are bureaucratic, legal, social, and cultural reasons for gaps in documentation, which the University Archives are currently trying to address by collecting student group records, conducting oral histories with students from underrepresented groups, and promoting engagement with materials like the ones found here.  
The materials presented here are not exhaustive but represent months of searching, reading, citing, digitizing, and compiling. It is the hope that those who take the time to closely read these materials will have a more complete picture of what it took for Black students to make change at Emory and be inspired to further engage through research.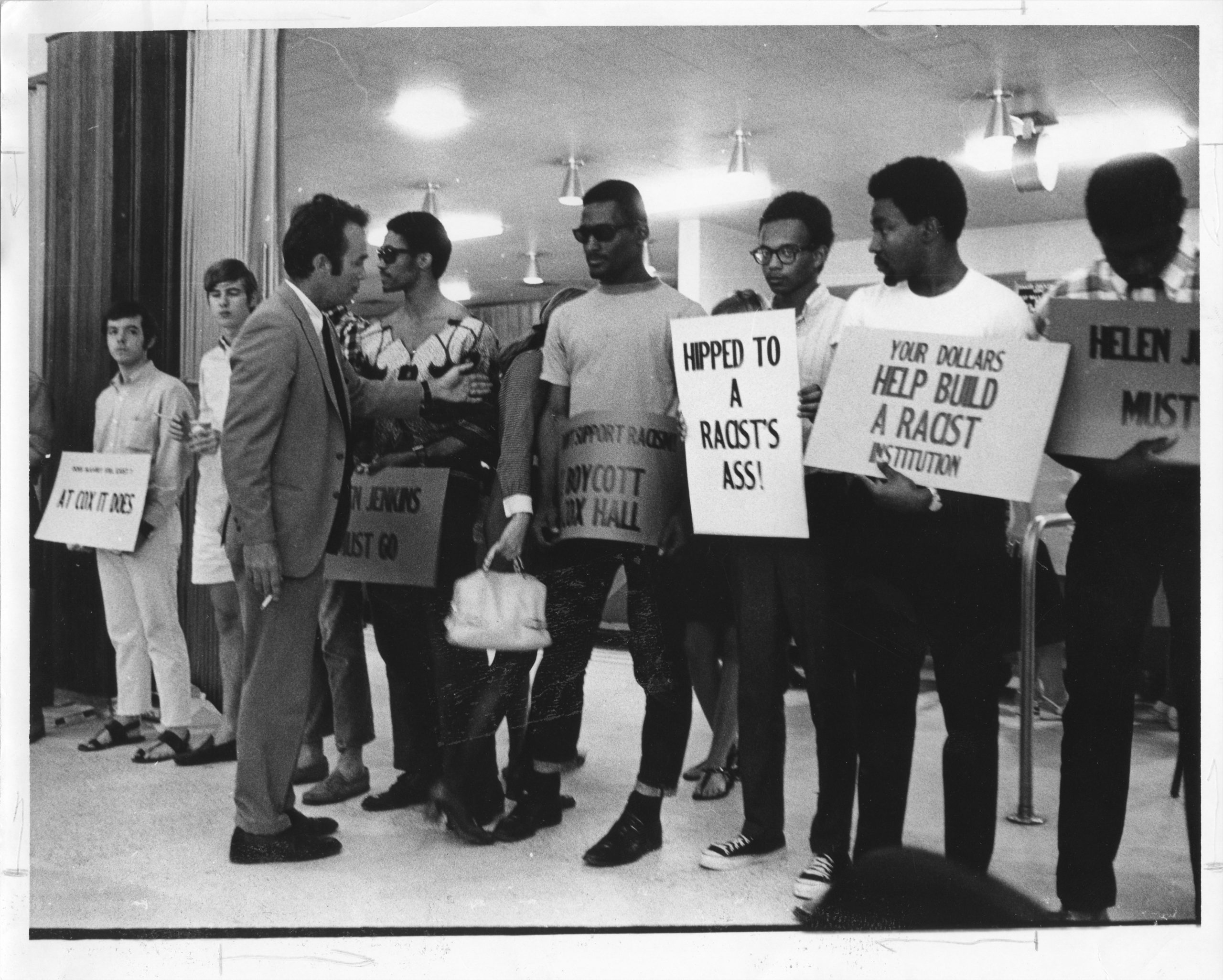 Black students protest at the entrance to Cox Hall in 1969. Credit: Emory University Photograph collection, Stuart A. Rose Manuscript, Archives, and Rare Book Library, Emory University.
Adding to the Story
BE A PART OF THE ARCHIVES
If you were at Emory during these and other moments of student activism and have materials (photos, correspondence, scrapbooks, etc.) to donate that would increase our understanding and appreciation for the student experience, please do not hesitate to be in touch.
Contact John Bence, University Archivist, Rose Library at jbence@emory.edu if you'd like to discuss a potential donation of archival material related to your time at Emory.
For more information about financial contributions to support the university archives, please contact Erin Horeni-Ogle, Director of Advancement, Emory Libraries at ehoreni@emory.edu or 404.727.5386.